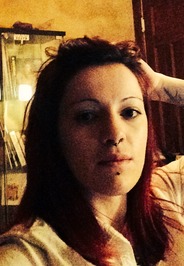 An extra perk of hosting authors for virtual book tour companies is connecting with awesome writers. After reading  and reviewing Shameless, a not for the faint of heart, edgy but very well written NA romance, set in Montreal, I sought the writer out, knowing that she would give me a great WIP interview. I was right. Nina, in her twenties, is the youngest writer featured here so far. Nina, you're on:
Hi! I'm Nina Lemay, aka that girl who wrote that feminist stripper book, aka Shameless
 (available now on Amazon). The rest of the time, I write YA and adult speculative fiction. I'm an indie author with hybrid aspirations.
Nina, thank you so much for being here. Before we talk about your WIP, why don't you tell us a few things about yourself outside writing.
I'm (almost) fully trilingual, having moved to Montreal at a young age. One of these days I'll write an epic Montreal-set novel en français, but until then, I'm working on my BFA in Creative Writing in English. Like a number of writers (as it turns out), I'm somewhat socially awkward and am way more comfortable in front of a keyboard than in front of people—which is why I'm hoping to work as a full-time writer or freelance editor once my degree is finished. Yay pajamas!
What I loved about Shameless was its location. I've been to Montreal, and it's a beautiful city. My husband has also spent twelve years there. Can you talk your city up a bit?
Montreal, I find, is outrageously underrepresented in books. Regardless of genre. And I have no idea why, it's a really cool place with a rich history to rival New Orleans. The Catholic and French roots of Montreal (and Quebec as a whole) mean that it looks quite different from a number of North American cities. It has a more European feel—which doesn't always work in our favor, for example, those pretty outdoor winding staircases probably look wonderful in the south of France, but here they're basically an ice-slicked deathtrap eight months of the year.
But what really sets Montreal apart is the mindset. It is a little bit hedonistic, with rich food and entertainment and yes, there really is a strip club on every block on Ste-Catherine. The drinking age is 18 but really just a suggestion, and the nightclubs are open till three AM. There was a project this year to allow them to stay open till 6, but it was shot down due to public safety concerns.
Despite of the woo-hoo-party mindset, Montreal is a really safe place to live. I can walk pretty much anywhere at any hour, with headphones on, and have no fears for my safety.
 All these elements are well portrayed in Shameless–one of the book's features I enjoyed. Exercise in lean writing: give us a synopsis of your current WIP in under 200 words.
Our heroine is supposed to be in college, having the time of her life with her popular, beautiful friends and boyfriend. Instead, she's stuck repeating her senior year. Other teens whisper behind her back, her parents took the door off her room, and instead of parties she attends AA meetings.
Then, at one meeting she runs into the new guy at school. He's the only one to treat her like a human being after what happened last winter. He's the only one who seems to understand her. But what is he really doing at her school, and what does he really want from her? And how is he connected with the anonymous threats she's been finding in her locker ever since he appeared?
Intriguing! Are you happy with the pace of your work? Do you aim at a specific word count each day?
I try to aim for 2000-3000 words. But during the school year those words are often essays, so I try not to be too hard on myself if I fall behind.
Plotter, pantser or both?
Plotter! Enthusiastic plotter. That word makes me giggle because in French the word plotte means something else J But yeah, I like to outline thoroughly, chapter-by-chapter. I keep "idea books" where I jot down my brainstorms and outlines. Some people find it a little obsessive.  But for me that's the only way to finish a book in a month, so…
A Book in a month?! I'm so going to ignore that that's your time frame, What's your worst enemy in getting that first draft finished?
The doubt. Who the hell wants to read this? Nobody cares about your stupid stories, change majors and get a job. It's kind of tough pushing past it, but sometimes you just gotta stick your fingers in your ears, shut your eyes and go la la la… that makes it kind of hard to type though.
That's the attitude! Have you ever experienced lack of inspiration or drive to write? If so, how do you motivate yourself?
This has to do with the last answer… doubt is the worst. Inspiration might be there, but when you're paralyzed by doubt, it doesn't help much.  And to say I've faced some adversity in my writing journey (I really hate that phrase, writing journey. There's never an end. You never "arrive". You're only as good as your current WIP) is to say nothing at all. I've faced rejection on Books of my Heart, from both agents and editors. I've faced crappy reviews. I've had phases where it feels like I'm beating my head against a concrete wall, hoping the wall will crack before I do (these odds are not in my favor). I've almost given up writing altogether. But you know what, writing makes me happy. I may not write trendy things on trendy topics, but I believe in my books. I believe I'm talented, I believe I'm a good writer. And I believe my stories will find their way.
In danger of repeating myself, that's the attitude!! You bet you're a good writer otherwise I wouldn't seek you out. It's as simple as that. Now, could we take a look at your workspace? Is there a particular place you find inspiring for writing?
I used to live in horrible, tiny studios on the Plateau where my bed was three feet from my fridge. Now I finally gave up on the Plateau and I have an actual office, for the first time in my life! It has no windows, but it's a start.
Very … bookish! Now your workspace pic is pinned on my Featured Writers' Workspace board on Pinterest. Apart from Word and Google, do you use any other writing or research tools and apps?
Scrivener is nice, but it got to be too much clicking around for me and I went back to Word.  And have I mentioned that I loooove notebooks? I'm a texture freak. I love the feel of pen on paper. The ideas just flow. I rely on my journals and idea books. Without them I'd be lost.
How do you intend to celebrate writing "The End" on your draft?
Go for a poutine! Just kidding. Or am I?
I had to look up the fries/gravy/cheese curds dish up. Calory-infested yumminess! Which book publishing processes are you going to outsource and which are you confident enough to undertake yourself?
I will never be able to format anything by myself, ever. Nor design a cover. I'm computer-illiterate, unfortunately, so all the webby stuff will be outsourced. However, I do (almost) have a degree in English, and I have good betas. So my manuscripts only need the lightest touch of professional editing, mostly just proofreads.
Great job you did on Shameless, if it was not professionally edited. Do you have any marketing tips or favorite promotional sites you'd like to share?
Itching For Books do GREAT blog tours and promo services. And with the next release I intend to give Netgalley a shot. Everyone says it's pricey but worth it. We'll see!
I've been thinking about Netgalley myself. Your blog is ninalemay.com. Do you follow a specific branding pattern with your posts or is it a free writing platform?
I'm terrible at blogging! I just needed a semi-official-looking site (everyone says you have to have those or you're not a real author, or something).
Interesting. No blogging effort there. I'll come back to you later to ask you if not having a blog as a pillar of your author platform affects your sales outreach. Is contemporary romance the genre you will stick to or do you see yourself branching out in the future?
Oh my. It actually took me a really long time to get my a** in gear and write a contemporary romance. I'm a genre writer at heart. Give me paranormal elements and weird powers and supernatural creepiness! My current YA projects are all of the speculative variety, or thrillers. There WILL be a New Adult SFF novel in the not-too-distant future. *mysterious face*
Fun stuff now: Let's do a rapid fire round.
Flavored sorbet or chocolate ice cream? Sorbet. I'm a rebel.
Pizza or sushi? Sushi.
Twilight or The Hunger Games? THG! Ugh, Katniss over Bella any day.
Ryan Gosling or Benedict Cumberbatch? Cumberbatch, of course. (See? I'm not a normal NA writer…)
Trek in the Andes or snorkeling in Tahiti? Museums in Paris. But the trek in the Andes is a close second.
Ugg boots or red-soled designer stilettos? Doc Martens. Or Converse.
Finally, please share with us links where we can find you and your work.
My website (where I try to keep things up to date on a semi-regular basis): http://ninalemay.com/
My Twitter: https://twitter.com/NinaLemay
My Facebook: https://www.facebook.com/pages/Nina-Lemay/335772423239892?ref=hl
Goodreads: https://www.goodreads.com/author/show/8298989.Nina_Lemay
Thank you, Nina, and best of luck with Shameless and your future projects!
For more great WIP interview by an array of interesting authors click here.