Shameless
by Nina Lemay
Amazon
My Review
Hannah flees her suffocatingly boring Minnesota home town to study art in a prestigious English speaking university in Montreal. With a barbed wire firmly set around her small frame because of a mistake that branded her the wrong way back home, she shuns everyone out and when finances become an issue, she becomes a cliché. She starts stripping to pay for college. She becomes Alicia. Most patrons at the club are your average gross, bald, middle aged guys who, on the one hand want to grope her (not allowed) but on the other want to mend her. Soon, the sensitive skin she has on display becomes thick, and life goes on. But one guy—young and hot—seems to neither want to grope nor mend her. It hurts when it shouldn't, and she tries to shrug it off, until she sees him again. As the teacher of her Classic Photography class. Where she wears Converse, large sweaters and not a speck of make up. And what's worse? The hot guy—no, teacher—might not have wanted Alicia, but he sure wants Hannah. A lot. That's when lots of stuff hit the fan.
This NA really blew me away! The depiction of life in strip clubs was raw and evocative, but it avoided all the clichés we're fed up seeing in films. The writer paints a vivid but not necessarily ugly picture of the girls. Sure, some of them end in the gutter, but some do not. And Hannah is determined not to. Although the obstacles that are thrown her way are overwhelmingly difficult to surpass, she finds the inner strength she didn't know she had to fight back. I won't give you the outcome, but this is one book I wouldn't mind not having a traditional HEA. It was so good to read a fully fleshed-out character who stands her ground unwaveringly even if it means she'll lose it all.
The male character, Emmanuel, is sweet and the perfect material to become a book boyfriend, but he was a weak link in the story. I'm not entirely sure I was rooting for him in the end. But I loved the way he treated Hannah (or 'Annah as he is French) and the trips they took around Montreal and Quebec City were truly beautiful. I also loved the setting. Original, rich and … very Canadian 🙂
The writing is fantastic! One of the best NA I've read this year. Gritty and raw but with deep empathy and an ability to delve deep into the main characters' psyche.
If you enjoy New Adult romances that are not buttery sweet, and feel you want to take a ride on the wild side, Shameless is what you should try.
I was offered a copy of this book by Xpresso Book Tours in exchange for an honest review.
Purchase Link: Amazon
About the Author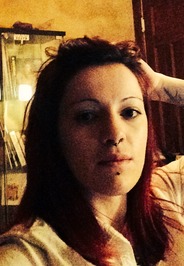 Nina Lemay is a YA writer by day and author of sinfully twisted New Adult…well, also by day. She loves all things dark and edgy and never tires of tormenting her characters. While Nina is a fan of all things scary, Gothic, and fantastic, she doesn't shy away from a gritty contemporary romance when the muse strikes. She lives in Montreal, a city that never fails to inspire, with her partner and her dog.